Catholic Daughters
 of the Americas
You are invited to join us
Catholic Daughters Court 2388
CDA is the largest organization of Catholic women. With the Blessed Mother as the model, they are called to be unified in faith in Jesus and to be commited to the Church and the Holy See. Purpose of the CDA: to participate in religious, charitable and creative spiritual programs which provide members an opportunity to develop their Godgiven talents in a meaningful way to influence others. The women meet on the second Mondays of the month.
Who we are
The largest national organization of Catholic women in the world dedicated to strengthen their spiritual life through Christ and His Church.

Founded in 1905 by the Knights of Columbus in Utica, New York.

Organized in 42 states, Puerto Rico, Dominican Republic, Mexico, Virgin Islands, Guam and Saipan.

Junior Catholic Daughters of the Americas (JCDA), our national youth program for girls 6 through 18, founded in 1925.

Catholic lay and religious women, 18 years of age or older, who love and support the Church and wish to participate in social and chari table activities, are welcome.
Catholic Daughters
Pray

Inspire

Cooperate

Involve

Encourage

Motivate

Envision

Implement

Initiate

Volunteer
Why Join
A Member Gives
Time

Talent

Ideas

Knowledge

Dedication

Enthusiasm
A Member Receives
Spiritual Enrichment

Leadership Skills

Affirmation

Community

Broadened Horizons

Sense of Accomplishment
What We Do
Enhancement of spiritual life

Support of Holy Father, Bishops and Clergy

Vocations to the religious life

Evangelization

Mission activities

Catholic Relief Services

Alheimer's safe return program

Habitat for humanity

Mother Teresa

Right to life

Adopt-a-Child program

Battered Spouses and Child Abuse

Scholarships and educational contests

Teenage pregnancies

Teenage suicides

Issues affecting church, family and society
Assistance to the unfortunate - the handicapped the underprivileged, the homeless

Civic programs

Morality in Media

Drug and alcohol abuse

Elderly

Prison Apostolate

Aid to flood and disaster victims

Apostolate of the Sea

Assistance to victims of Aids

Rural life

Patriotism

Veterans' support

Project Handclasp (U.S. Navy)
National Program Circle of Love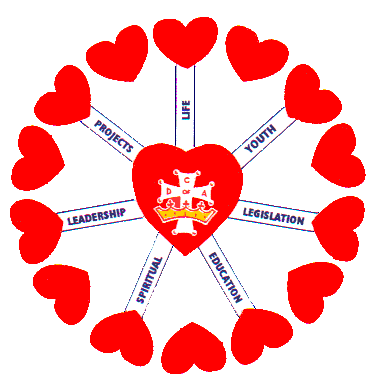 Leadership

Spiritual Enhancement

Quality of Life

Youth/JCDA

Education

Legislation

Charitable Projects
CDA strives to embrace the principle of faith, working through love in the promotion of justice, equality and the advancement of human rights and human dignity for all. 
Members are encouraged to develop leadership skills, dedication and great enthusiasm for the work of Christ and His Church. 
Answer our Lord's call with faith, generosity and love by joining the Catholic Daughters of the Americas!
We are dedicated to our patroness, the Blessed Mother. Our motto is Unity and Charity.
CDA Emblem - the Cross and Crown symbolize the reward promised to the faithful. 
It is a special blessing to be a Catholic Daughter. We wish to share this blessing with others. 
We strive to be spirit-filled women who love Christ, His Church, our country and all humanity.